Looking for dollar to naira exchange rate in Nigeria today including the Black Market rates, Bureau De Change (BDC) rate and CBN rates? ENigeria Newspaper has got you covered.
How Much Is Dollar To Naira Exchange Rate Today?
ENigeria Newspaper reports that the exchange rate between the Naira and the US dollar this morning is N411.48 at the official Investors and Exporters window as against N412.21 /$1 the previous day.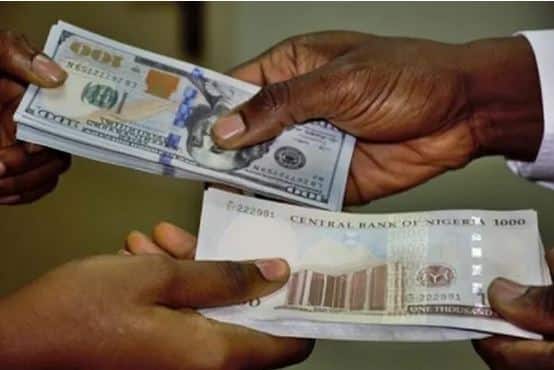 Exchange Rate of Dollar To Naira in Black Market Today?
LAGOS PARALLEL MARKET RATES August 7th 2021 (BLACK MARKET)
ENigeria Newspaper reports that the Nigeria black market dollar exchange rate today to the Nigerian Naira is as follows:
US Dollar is being traded at ₦505 in Black Market (Lagos) today, August 07, 2021. USD started this week at ₦512 in Black Market on Monday, August 02, 2021.
Sell: ₦505  Buy: ₦500 Naira to Dollar
Note that parallel market is popularly known as black market.
| | BUY / SELL | BUY / SELL | BUY / SELL |
| --- | --- | --- | --- |
| 06/08/2021 | 505 / 510 | 700 / 705 | 592 / 598 |
| 05/08/2021 | 500 / 508 | 700 / 705 | 590 / 598 |
| 04/08/2021 | 498 / 506 | 695 / 705 | 585 / 595 |
LAGOS BUREAU DE CHANGE RATES August 7th 2021
| | BUY / SELL | BUY / SELL | BUY / SELL |
| --- | --- | --- | --- |
| 06/08/21 | 495 / 508 | 680 / 705 | 580 / 602 |
| 05/08/21 | 495 / 508 | 685 / 705 | 580 / 602 |
| 04/08/21 | 495 / 508 | 685 / 705 | 580 / 602 |
| 03/08/21 | 500 / 510 | 690 / 705 | 590 / 602 |