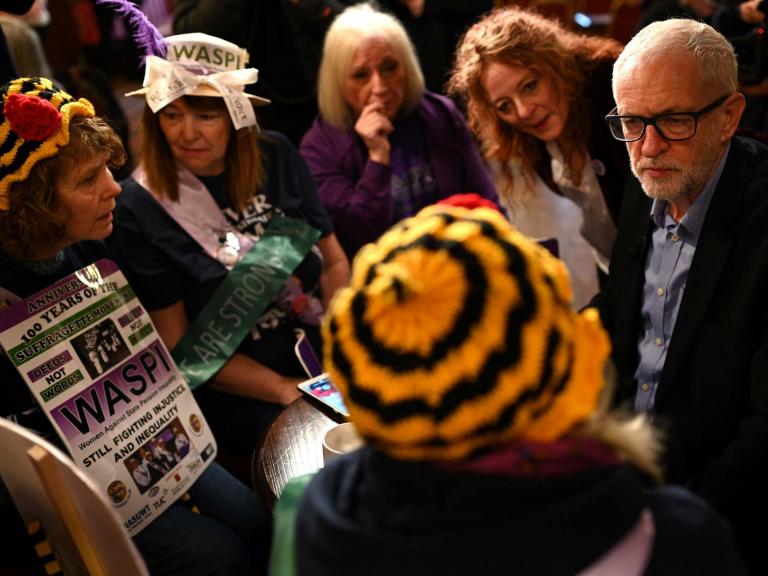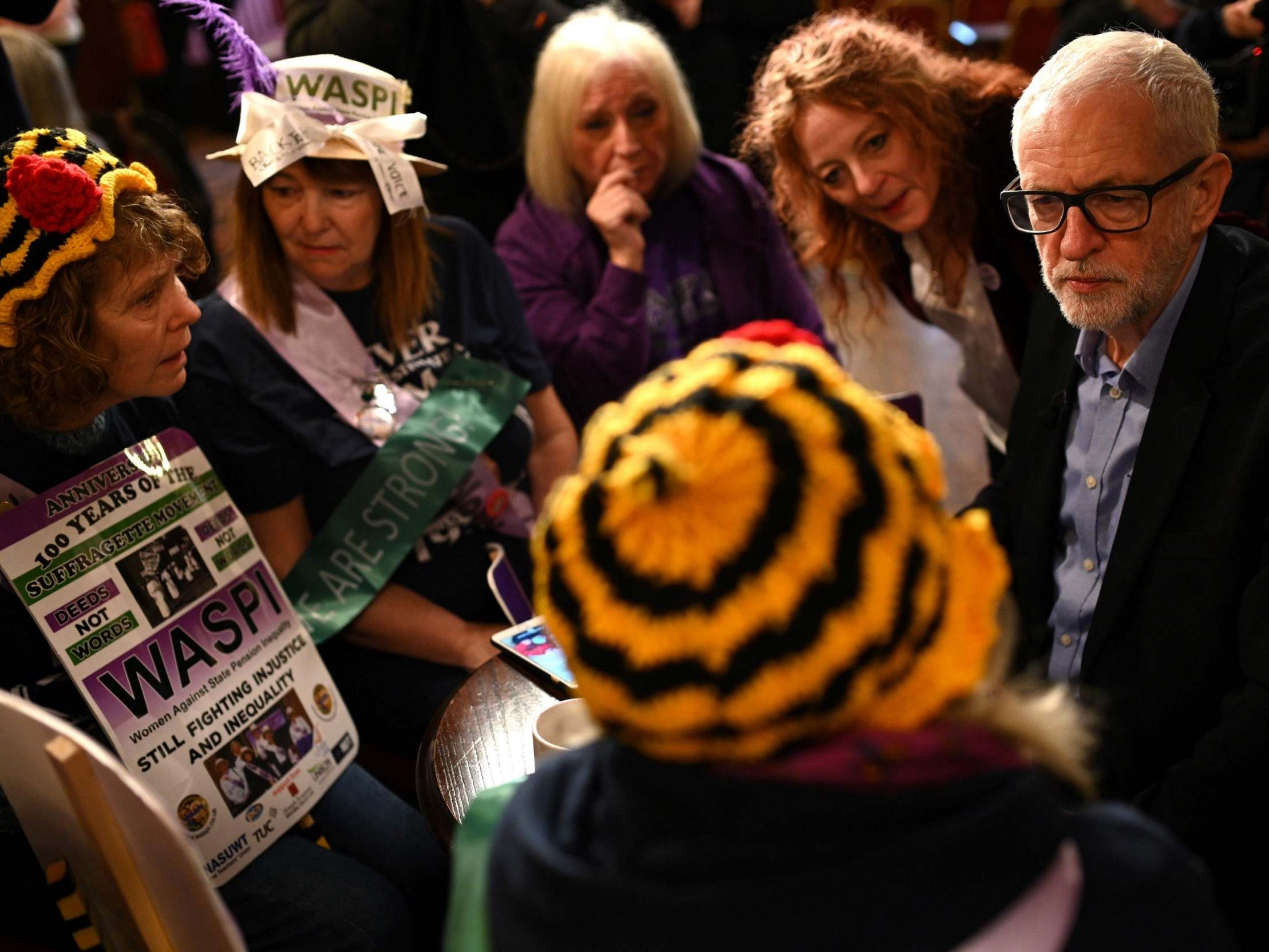 Jeremy Corbyn has said the UK has a "moral debt" to women hit by the controversial increase to the state pension age.
The rise from age 60 to 66 has affected nearly four million women, who the United Nations has are at increased risk of "poverty, homelessness and financial hardship" as a result.
Labour this week pledged to spend £58bn reimbursing women who lost out on years of state pension payments after their retirement age was raised.
The director of the Institute for Fiscal Studies (IFS) criticised Labour's plans on Monday, arguing many of the so-called Waspi women are "actually quite well off" and accusing the party of a "decisive lack of priorities".
But Mr Corbyn said: "We owe a moral debt to these women. They were misled. They've lost a lot of money."
The Labour leader added: "The women I've just been talking to have lost between £30,000 and £50,000 each because of this. They are dedicated people to their communities and their families, and they are very angry about the way they have been treated."
He refused to say the pledge to the Waspi women – named after campaign group Women Against State Pension Inequality – meant going against Labour's promises on borrowing only for investment.
Mr Corbyn added: "It's a moral debt we owe to these women and had the court case gone the other way, or another court case goes against the government, the government would have to pay, the government is obliged to pay … What we are saying is we will pay it."
During a meeting with Waspi women in Renishaw, northeast Derbyshire, the Labour leader said he was "proud" of the policy.
He said: "I'm very proud that we've got that clearly in our manifesto and I'll be very proud to go into government and say 'this is the policy on which we've been elected and this is the policy that will now be carried out to right the wrong and the injustice that's been done to all of you'.
"I will do absolutely everything I can to make sure we win the election on 12 December and put that pledge into practice."
Mr Corbyn said he believed the public understood the injustice that had been committed and the need for the country as a whole to accept the "moral responsibility for putting it right".
Women affected by the pension adjustments lost their landmark High Court battle against the government last month, but have applied for permission to appeal.
Paul Johnson, director of the IFS, criticised Labour's policy on BBC Radio 4's Today programme on Monday morning.
He said: "I think there are two interesting things about that – one is the sheer scale of it, and of course it immediately breaks the promises they made in their manifesto just last week only to borrow to invest.
"So, they would need even more than their £80 billion tax rises if they wanted to cover that.
"Whilst some of these Waspi women really have suffered hardship as a result of not realising that this pension age increase is happening, although it was announced back in the early 1990s, many of them are actually quite well off."
But shadow housing secretary John Healey defended the policy and said it was not fully costed in the party's manifesto as it is "not a regular spending commitment".
Mr Healey told the programme: "We are righting this wrong. We regard this injustice as breaking that basic contract between working people and their government.​"
Women expecting to retire at 60 were told they would have to wait longer when changes to the state pension age were accelerated in 2010. In 2018 the retirement age for women rose to 65, in line with men.
Waspi women – the Women Against State Pension Inequality – argue they were not given enough time to prepare for the changes.
Labour has said it would make individual payments averaging £15,380 to the 3.7 million women it says were affected by the changes to the state pension age.
Joanne Welch, founder of campaign group Backto60, recently told The Independent women's lives had been "annihilated" by the pension changes and some were being forced on to the streets and others had accumulating debts.
One woman she knew had suffered a mental breakdown due to not getting her state pension, she said.
Ms Welch, whose campaign group took the government to court over the issue, added: "Another woman told me the changes were her 'death warrant'. I can't forget those words. They literally haunt me. Women are clinging on by their fingertips to stay afloat. They try everything. They sell furniture and jewellery and anything they can. One person told me she had sold her grave plot where she would have been buried next to her parents.
"Imagine being in debt and then having that emotional hit. Women are being made to feel like they are scroungers when they have been striving their whole lives. It is outrageous."
Additional reporting by Press Association
Social media is an increasingly important battle ground in elections – and home to many questionable claims pumped out by all sides. If social media sites won't investigate the truth of divisive advertising, we will. Please send any political Facebook advertising you receive to [email protected], and we will catalogue and investigate it. Read more here.