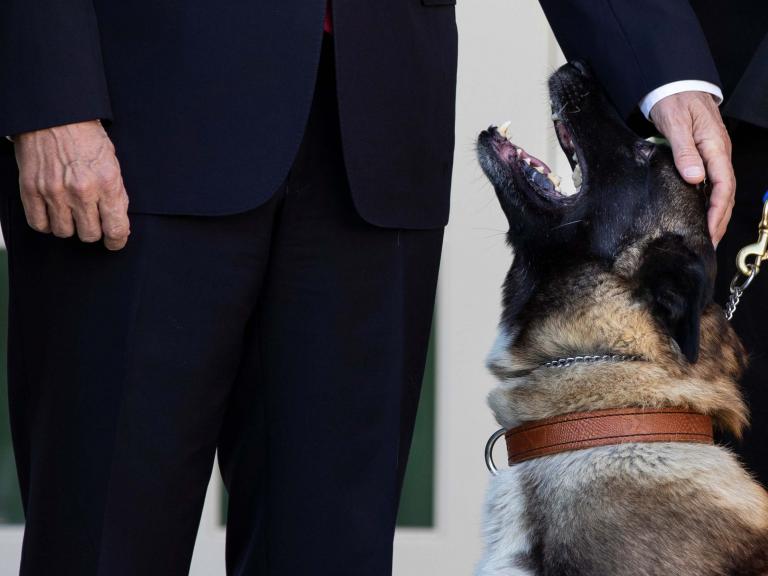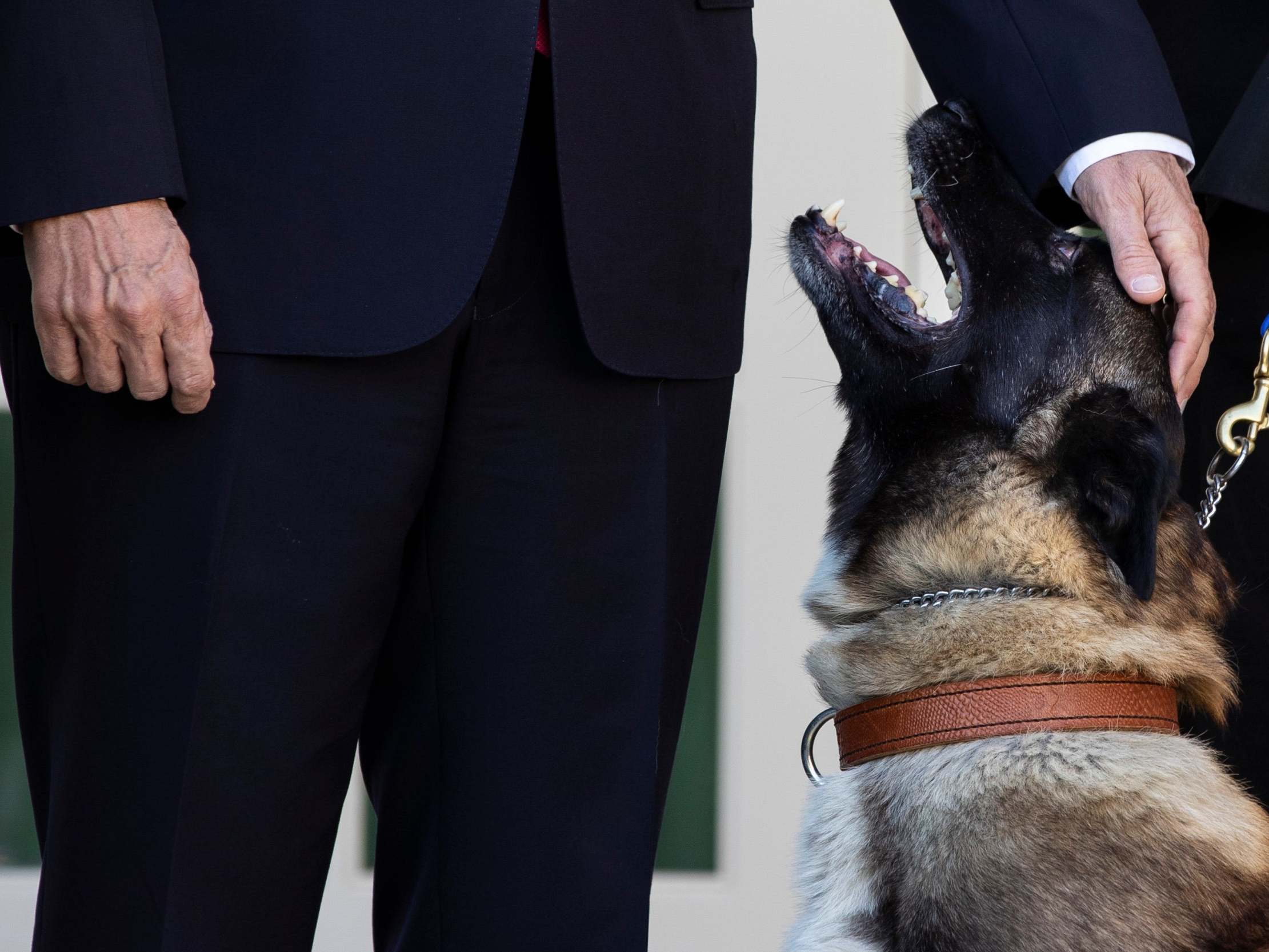 Donald Trump has presented Conan, the military dog who was wounded during the Navy SEAL raid that killed Abu Bakr al-Baghdadi, with a medal and a plaque during a surprise visit to the Rose Garden.
The president sang the dog's praises during the appearance, as vice president Mike Pence repeatedly gave Conan pets in front of reporters. The first lady stood nearby, alongside a handler, but neither Trump was seen actually touching the pooch during the visit.
"We actually just gave Conan a medal and a plaque," Mr Trump said. "I actually think Conan knew exactly what was going on. But a dog that is very, very special."
Mr Trump also remarked on Conan's killer instincts, and at one point said that they considered putting a muzzle on the dog — who was well behaved during the press conference — before deciding against the restraint.
Conan became an unlikely symbol of the bloody military raid last month, after Mr Trump noted during a press conference that a dog had been injured.
Soon after, Mr Trump declassified a picture of the dog, and posted it on Twitter.
"We have declassified a picture of the wonderful dog (name not declassified) that did such a GREAT JOB in capturing and killing the Leader of ISIS, Abu Bakr al-Baghdadi!" Mr Trump wrote.
A photoshopped version of photo was later posted again by Mr Trump, showing him placing a medal around the dog's neck.
Mr Trump called the Belgian Malinois "incredible. Actually incredible," during the Rose Garden event, and noted that some of the humans involved in the raid had also visited him in the Oval Office.
But "for obvious reasons, they can't be out in front of the media," he said.
Mr Trump also told the press that he had been informed Conan could take a very strong man in a fight, and noted that "you see how beautiful and calm they are in situations like this".
Then, he joked that a reporter nearby was lucky for the calm: "You're lucky he's not in a bad mood today, Jeff."
As they walked back into the White House, reporters shouted questions that went mostly unanswered. But, Mr Trump flashed a grin when one reporter asked Ms Trump if she had thought about adopting the dog for their son, Barron. She appeared to say "no."