Jack Grealish in full. What proportion of his shins are those shin pads protecting? Hardly any, that's what. They're barely more use than a Newcastle defensive wall.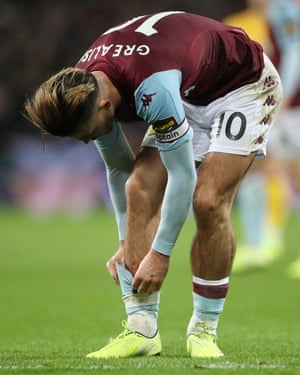 45+3 mins: Peep peep peeeeeep! Aston Villa deservedly lead at half-time. There haven't been very many actual goalscoring chances other than the actual goals, but it's been a half of two halves. In the first, Newcastle lacked ambition. In the second, they lacked quality.
45+1 mins: There will be about two minutes of stoppage time.
45 mins: Saint-Maximin loses the ball and Villa break. El Ghazi runs through again, but McGinn overhits his pass. There were aching chasms in Newcastle's defence there.
44 mins: Then Villa break, but El Ghazi is offside when he's played through.
43 mins: Top save from Heaton! The corner is curled onto the head of Fernandez, who heads down but too close to the keeper, who flings his arms to his left to turn it away!
42 mins: They have started to come out of their shell, though. Just then then had three people inside Aston Villa's penalty area. The ball didn't join them, but they do get a corner.
38 mins: Newcastle have got this all wrong so far. The 10 men behind the ball approach was worrying, the hack Grealish whenever he's in the vicinity of the area tactic was just a few extra hundreds and thousands of idiocy atop an already silly cake.
One free-kick goal for Hourihane, and one free-kick assist! Dummett just stops running as it curls into the six-yard box. Behind him, El Ghazi doesn't.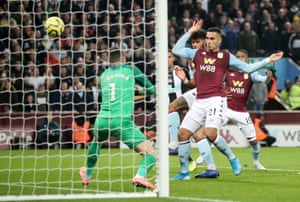 35 mins: Grealish gets near the Newcastle penalty area again, and he's brought down again. Fernandez is booked.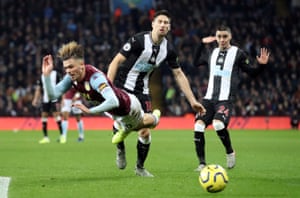 And in it flies! Hourihane taps the free kick to Grealish, who tees him up. Those extra couple of feet allow Hourihane to curl the ball around the static wall and just inside the post!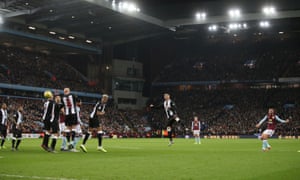 30 mins: McGinn lifts the ball over the Newcastle defence towards Grealish. It would have been difficult for him to control it, but Yedlin shoves him from behind and now he's got a tasty free-kick-based shooting chance.
29 mins: Douglas Luiz has another shot from outside the area. This one looked to be dipping just under the bar, or perhaps into it, until Dubravka fingertipped it over.
28 mins: It's hard to tell whether Shelvey deliberately shot, or just crossed badly. Either way, Heaton catches.
27 mins: Saint-Maximin takes on Guilbert, but both run past the ball. They turn back and grapple with each other in their desperation to reach it first. Both look equally culpable to me, but the referee gives Newcastle a dangerous free-kick scenario, out on the left.
25 mins: After that promising start, Newcastle have settled in and sat back. They are playing like they're 2-1 up with two minutes to play.
24 mins: Joelinton goes on a run now, but he gets no help from any of his team-mates and eventually falls over.
22 mins: Targett plays on, apparently after being sick on the pitch.
21 mins: Targett is receiving medical attention. He seems to have something stuck in his throat. "Greetings from California, where it's the lunch hour," writes Peter Oh. "I'm looking for a place near my work that is showing this match because I like watching Newcastle's Saint-Maximin play. He's skilled, crafty, and has an all-around impish way of playing that makes for pure entertainment. And his name is delightful as well." He is indeed a lot of fun, particularly I feel if he doesn't actually play for the team you support, in which case I fear he might be wildly frustrating.
19 mins: Suddenly Saint-Maximin springs out of defence! He hares with the ball from his own half into the heart of Aston Villa's, frightens the living daylights out of three defenders and then passes to Almiron, who miscontrols. Saint-Maximin does a dramatic total strop, flinging arms all over the place.
18 mins: Another decent ball into the box from Targett. This time he finds Douglas Luiz, but Willems tracks his run and gets a foot in the way of his shot.
15 mins: Saint-Maximin, the furthest back of the nine-man backline Newcastle appear to be fielding at the moment, does a useless clearing header, but gets away with it.
13 mins: Chance for Villa! From the throw-in they attack. Grealish's dummy gives Targett space on the left to consider his options, and he fires in a delicious low cross that El Ghazi looks destined to turn in, but doesn't turn in.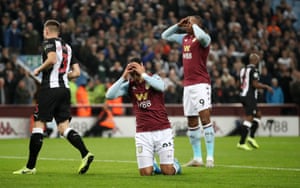 12 mins: Villa have the ball in defence. They pass it right, they pass it back to the left, they pass it back to the right. There is no space in front of them whatsoever, and eventually they just try a random pass, which goes off Willems and out for a throw-in.
9 mins: Grealish is fine. His socks are rolled most of the way down to his boots, and thus almost all of his shins are uncovered and there's no sign of any shin pads. Presumably he is wearing some, because he has to, but they must be extremely small and useless.
7 mins: Joelinton goes in a bit high on Grealish. The Newcastle player immediately apologises; the Villa player immediately starts limping, and then goes down. The referee meanwhile sees nothing wrong with it, and waves play on.
4 mins: Almiron has a shot now. It's high and wide, but this is all very promising, with both sides throwing people forward.
3 mins: Newcastle try to play the ball out of defence, but the home team don't give them any time or space, and after trying on the left, trying through Dubravka and trying on the right, they eventually give it away, and Douglas Luiz has a shot that deflects wide.
1 min: They're off! Newcastle get the game started, and Saint-Maximin's early cross bounces harmlessly through to Heaton.
And out they come! Kick-off but moments away now.
The players are in the tunnel! It's a very large tunnel, Villa Park's, and very claret-coloured.
"You're not fooling anyone here," says John Palethorpe. "We all want a link to the Dyer/Bowyer fight during one of the more hilarious Newcastle v Villa Games."
Yeah, OK, fair enough.
Dean Smith has had a chat, firstly about the return of Jack Grealish:
It makes a big difference, because he's a top player and when you've got top players in your team you've got better chances of winning football games. You can always try to improve. The aim of the game is to score goals, so you need to create chances, but the downside of that is you maybe leave yourselves a bit more open. But our last performance here against Liverpool, we were very unfortunate to lose that game, it was a terrific performance and we need the same again tonight.
And Steve Bruce also has a word, about returning to a former club:
I had the privilege to manage the club for a couple of years. It didn't quite go the way we wanted but I've been in football a long time, so you understand that's what happens. But of course when you get the sack you want to come back and haunt a few. But look, I had a tremendous time here but if we could win, that would obviously be great.
Less than 20 minutes until kick-off. Hands up if you're excited!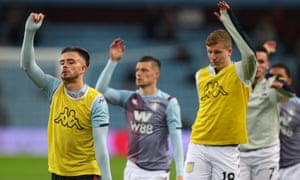 In only one of the last seven games between these teams has either of them scored more than one goal. That was the last, a 2-0 home win for Newcastle in February 2017. The last three meetings at Villa Park ended 1-1, 0-0 and 0-0. None of this is very promising. Here's proof that some Villa v Newcastle games are fun:
The team news is in! Tom Heaton, Conor Hourihane and Jack Grealish are in for Vila, Ciaran Clark passes his fitness test for Newcastle:
Aston Villa: Heaton, Guilbert, Konsa, Mings, Targett, McGinn, Douglas Luiz, Hourihane, El Ghazi, Wesley, Grealish. Subs: Lansbury, Nakamba, Trezeguet, Nyland, Kodjia, Elmohamady, Hause.
Newcastle: Dubravka, Fernandez, Clark, Dummett, Yedlin, Hayden, Shelvey, Willems, Almiron, Saint-Maximin, Joelinton. Subs: Schar, Carroll, Gayle, Krafth, Darlow, Atsu, Matthew Longstaff.
Referee: Lee Mason.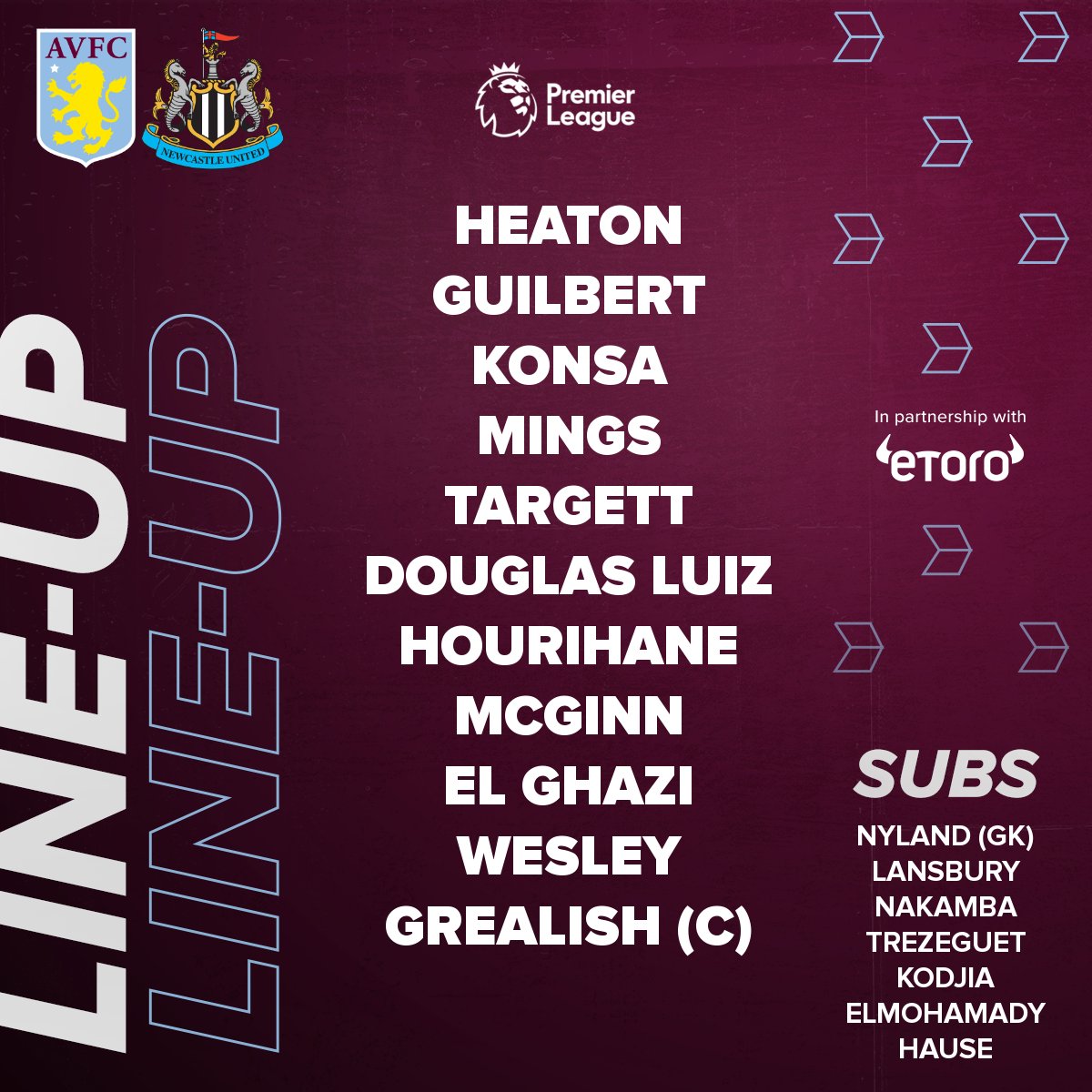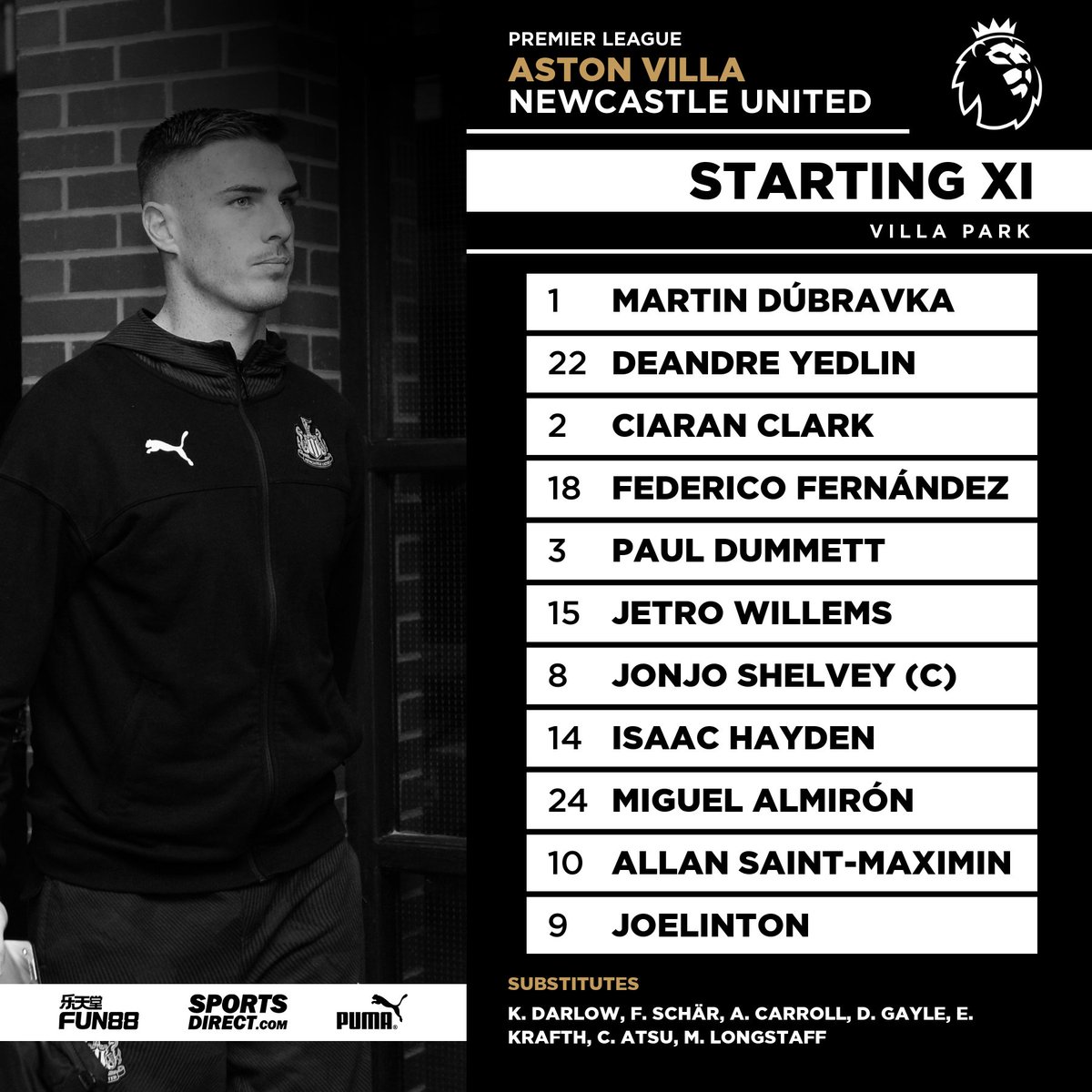 Hello world!
It's the Steve Bruce derby, and the Newcastle manager's first return to Villa Park since this cabbage was thrown at him during a 3-3 draw against Preston last October in what turned out to be his last game in the Villa Park dugout.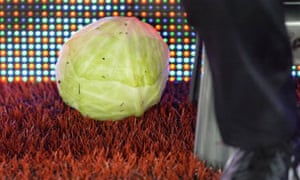 There has inevitably been a lot of talk about cabbages these past few days. Here are Bruce's memories:
It was one of the most unsavoury times of my career. I thought it was a ball to begin with, it was a big old thing. How the fan got it into the stadium I don't know. It didn't miss be my much. The fans can throw some things, but a cabbage? I went the next day so I didn't have time to get angry about it. "I got criticised [by Villa fans], but for 18 months only Manchester City scored more goals than us … they're a difficult lot. Great club, great support with great history, but it was in a mess.

It was arguably my most difficult job, even more difficult than this. We didn't know if we were going to get paid in May and June. It was practically close to the wall. It never got that far but there was a threat at the end of the month that we couldn't pay the wages. It was the worst and probably the most difficult six weeks after the play-off game, it was unrivalled from where we were. To be fair to the chief executive at the time he had kept it quiet for three or four months. We were aware we couldn't bring anyone in but financially we didn't realise the enormity of it until he got the sack. It was a really difficult time. Then…the new owners came in and everything changed very, very quickly. If they hadn't come in so quickly I would have feared for a great club the way it was, because we were practically bust.
And here's Dean Smith on the cabbage, and Bruce in general:
I thought it was a disgrace. You don't want to see that in the ground. I said that at the time. I said when I took the job that I have an awful lot of respect for what he has done in management but, more importantly, for how he is as a man as well. This season, if you look at Newcastle at the start, there were a lot of questions about the club and where it was going. But Steve has gone in and done what he does best – got them organised. They've got pace and power up front. They are winning games – they've won the last couple – and they beat Manchester United at home as well. They are in a good run of form at the moment.
Here's our match preview. In team news news, Jack Grealish is expected to return after a month out with a calf injury while Tom Heaton and Bjorn Engels are also fit to play for Villa. As for Newcastle, Ciaran Clark was due to undergo a late fitness test, while Florian Lejeune is ready to come back after a seven-month lay-off and Fabian Schar is also ready to rock after a three-match absence.