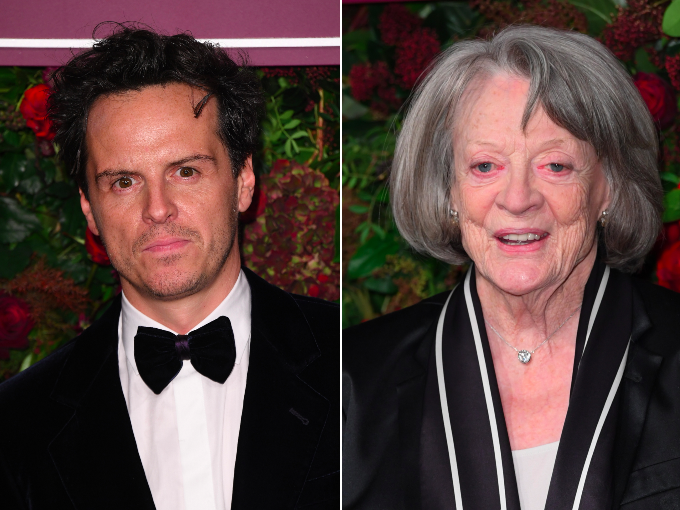 Andrew Scott and Dame Maggie Smith won the top prizes at the Evening Standard Theatre Awards 2019, in a night that also saw triumphs for Ian McKellen and Anne-Marie Duff.
Dame Maggie won best actress for the fifth time in the event's 65-year history for her performance as Goebbels's secretary in A German Life, fending off competition from Hayley Atwell, Cecilia Noble, Juliet Stevenson and Anjana Vasan.
The actor now holds the record for the most wins in the category. She said: "I am so pleased to get this award, it was so long ago that I got one when I started, it was because they couldn't think of anybody else to give it to."
Fleabag star Scott won best actor for his appearance in the gender-flipped version of Noel Coward's play Present Laughter, pipping competitors Tom Hiddleston, K Todd Freeman, Francis Guinan and Wendell Pierce to the post.
Sir Ian McKellen, meanwhile, accepted the editor's award for his On Stage tour after performing in more than 80 theatres in the year of his 80th birthday. He paid tribute to William Shakespeare in his acceptance speech, saying: "What could be more essential to national identity than remembering that the most essential Briton in national memory was not a politician or a general, but playwright."
Shameless star Anne-Marie Duff was another winner, securing the prize for best musical performance having made her musical theatre debut in Sweet Charity.
Play of the year went to Sweat, by the American playwright Lynn Nottage. Set in Pennsylvania, it explores the lives of striking female factory workers in an era of industrial decline.
The Evening Standard's proprietor and host of the event Evgeny Lebedev said: "Theatre in this city is in rude health and I look forward to seeing what the next generation of thespians can offer in the years to come."
Read the full list of winners here.